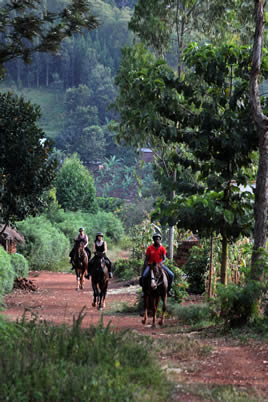 Horse riding in Jinja, Uganda
Join us for a unique ride through rural Uganda and some stunning areas along the banks of the River Nile. On our overnight safari, and special advanced riding trips you can also experience the views from the hills overlooking the Nile valley, canter through the stunning plantation vistas and relax in the tranquillity of Mabira forest.
We can accommodate riding groups with mixed levels of experience by allowing the riding groups to temporarily separate at certain points on the safari allowing more competent riders to ride at a more advanced pace and those not so confident to stay within their comfort zone. For those experienced riders looking for a fast-paced safari with plenty of cantering, we do have specific safaris for advanced riders only.