Responsible Tourism
Africa is place of stunning beauty, and also of third world living conditions. We pass through the local village of Naminya, and come into contact with a lot of Ugandan people on our safaris. Ugandan people in our experience are amongst the most friendly people in Africa. Uganda and especially the area around the source of the Nile in Jinja, is a exceptionally fertile area, and subsistance farming is the most common way of life in our area. No one in the village goes hungry, as Ugandans have a strong sense of family, and look after each other if someone has a brief period of shortage. Occassionally children will ask for money when safaris pass by. We are trying to discourage begging, as we believe it has a negative social affect, and helps continue Africa's want and increasing reliance on international aid.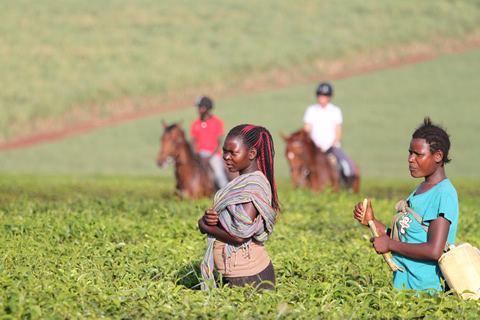 By having local farmers supply us with the remnants of their crops to feed our horses, and employing staff from our local area and improving local infrastructure we hope we are contributing to the community. We also sponsor Kiira Primary School. Our aim is to achieve a mutually beneficial situation for both Nile Horseback Safaris and our particular village of Naminya so the benefits from the tourists that pass through the area are shared.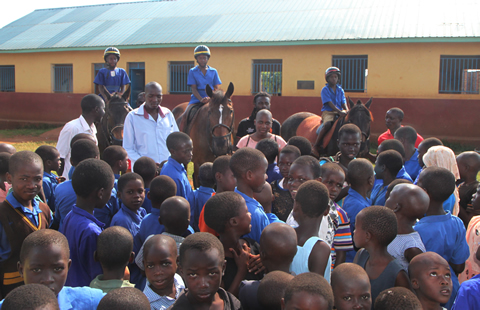 In areas of crops which our safaris pass through, we compensate farmers each year for potential damage that may occur from our horses nibbling maize leaves as they pass. We make the compensation more profitable to the farmers than actually having successful crops in effort to ensure our horseback safaris continue to be welcome through out Naminya Village.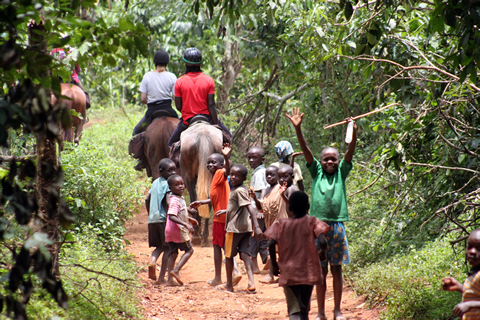 We also want to leave our local Ugandan friends with a good impression of the travellers who come to see their beautiful home. Please treat everyone you meet in the village with respect as this is their home. A smile and even a "Jambo" to say hello does wonders for the enthusiastic Ugandans you will meet on the way.